Return to Headlines
Teachers jump on new standards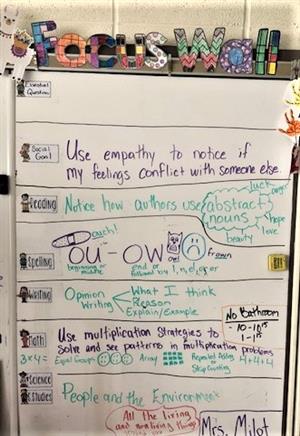 Work has begun to help Webutuck Elementary School teachers focus on the skills students need most and provide more detailed feedback to parents on how their children are doing.
Principal Jennifer Hengen and Interim Technology Director Lauren Marquis meet weekly teachers and consultant Michelle McCabe of Access to Achieve to prioritize which standards will be taught based on the Next Generation Standards that are coming.
The goal is to roll out new lessons and report cards beginning in September 2021.
"I was thinking about how overwhelming it is for teachers with all the Common Core standards and Next Generation standards that are coming," Hengen said. So, she began looking for ways to narrow the focus and get ahead of the curve.
Achieve the Core, an independent nonprofit was just what the team needed.
"They look at packaged programs such as Journey and GoMath and look at what needs to be taught for what the requirements will be," Hengen said. "Instead of waiting for the Next Generation standards we are trying to be proactive and look at our teaching resources and report cards and align them."
When the changes take effect, students will see the difference reflected on their classroom Focus Walls, which highlight key concepts they are learning.
Hengen plans to have the new priority standards posted in SeeSaw and teachers will assign and collect work that shows students' work in online portfolios that travel with the students as they move from year-to-year and school-to-school.
Teachers will be able to highlight student work and share it with parents and parents will be able to gauge how their child(ren) are doing.
Marquis said the changes will result in better communication with students and the family members responsible. It will provide a better way to address both remedial and accelerated needs.
"It will allow staff to make data-driven decisions on instruction," Marquis said.
The expectation is that better mastery of the necessary skills at the elementary school will result in improved student success at the intermediate and high school levels.
"Teachers wanted to have this for some time," Hengen said.
Parents will see the change on report cards, as it goes from showing percentages IE 85 percent to a standards-based report. The new report cards will show the main standards and then sub-standards, each with a grade of between 1 and 4, Hengen said.